EV Drivers
Our Process
How it works
The Supercharge App & Network work together to provide a seamless charging experience for EV Drivers when traveling on the road or at home.Here's how it works when traveling
Find a Supercharger
The US Supercharge e-mobility App provides access to an open charge network displaying all public charging stations in America using your smartphone's GPS.
Reserve Your Spot if you desire
Once you've found an EV charging station, you can reserve a spot using our e-mobility App. This ensures that you have space to charge your vehicle when you arrive.
Supercharge Your Electric Vehicle
Our public Superchargers are fast and efficient, providing a full charge in a shorter amount of time. You can monitor your charging progress using the e-mobility App, so you know when your vehicle is ready to go. Depending on amperage available at Host location.
Pay for Your Supercharge
Our e-mobility App allows you to pay for your charge using a secure payment system. You can even set up automatic payments, so you never have to worry about forgetting to pay.
Tomorrow's EV Driver Solution!
Drivers that charge at a US Supercharger gain a healthier and happier lifestyle.
US Supercharge e-stations are:
inviting and safe
cost-effective and time saving
travel friendly
convenient and provide amenities
The Combined Charging System (CCS) and the North American Charging Standard (NACS) a.k.a. Tesla plugs are available at all US Supercharge e-stations.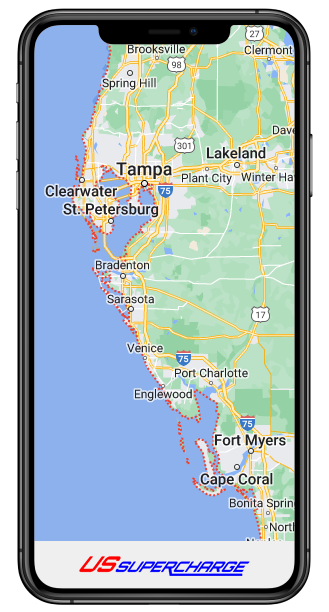 A Software Solution like no other!
The US Supercharge App is available for download at Apple Store & Google Play.
Our free Driver-Friendly App is easy to use and functional.
Easily charge and pay when traveling.

Remotely start or stop charging sessions.

Track charging activity from your phone.
Upgrade to the Supercharge at-home App.
Remotely start or stop charging sessions at home.

Manage charging schedules.

View public and home charging history activity from one App.

Sync with preferred energy costs and apply smart charging features to charge with the lowest possible electricity costs.

Easily track consumption for employees charging at home and generate reimbursement reports.
Frequently asked question