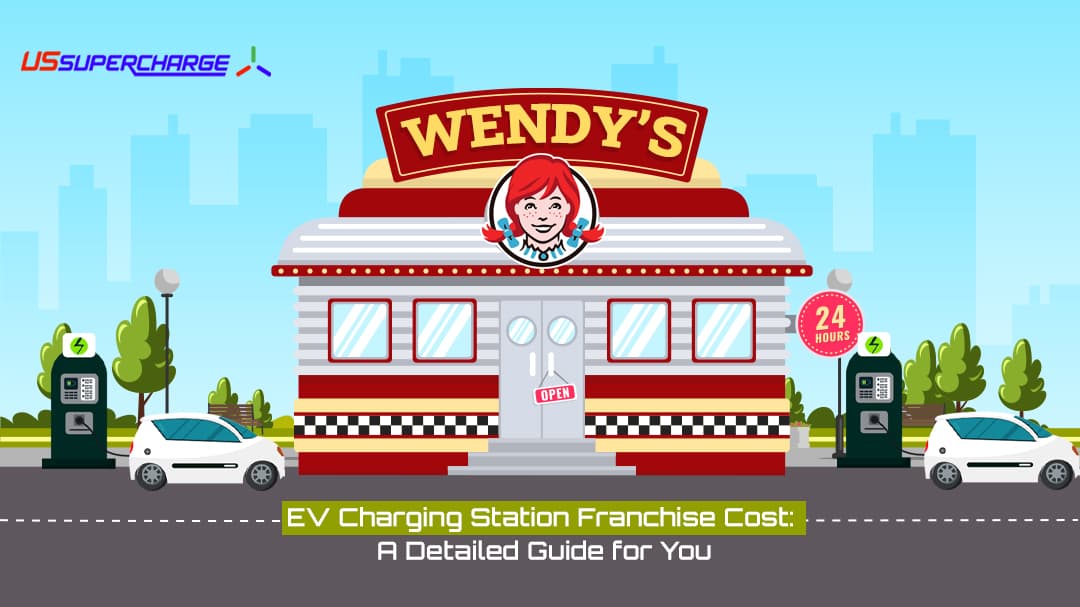 EV Charging Station Franchise Cost
The use of Electric Vehicles (EVs) by Americans soared high with nearly 2 million EVs currently on the road. The increase in the adoption of electric cars is because people perceive them as a better transportation option with better range, affordability, and higher battery life.
With the purchases growing every year, America has no choice but to expand its network of EV charging stations. With more than 150,000 chargers or 41,000 EV charging stations in the USA, there is a huge gap to fill. The record-breaking growth of electric cars in the market also suggests the need for more high-level chargers i.e., Level 2 and Level 3 chargers for faster public charging.
Given the poor condition of EV infrastructure, the state governments are already planning to construct more charging stations. They came up with policies to encourage residents and businesses to install charging stations on their properties to meet charging needs. Well, that gave EV charging companies a brilliant opportunity to initiate EV charging station franchises. They can grow their business while contributing to the growth of EV infrastructure.
All these bring us to the topic of this blog post, which is the cost of an EV charging station franchise. If you are a business owner and interested in opening up a charging station, we will guide you in making an informed decision. From defining an EV charging station to explaining how much an EV charging station franchise costs, we have got you covered!
Take a read.
What is an EV Charging Station?
Before you go ahead and learn more about EV charging franchises, it is important to know what an EV charging station is.
Here's a legitimate definition for you.
"Electric vehicle charging station or simply EV charging station is the direct source of power supply for the electric cars and plug-in hybrid vehicles."
Many experts also refer to EV charging stations as Electric Vehicle Supply Equipment (EVSE) for this reason. Just like gasoline stations, these too exist at different public locations like near highway entries/exits to provide convenient charging facilities to EV users.
EVs are a smarter version of automobiles that need no fuel to run but provide the same driving efficiency on the road. And, so are the charging stations! Most stations have advanced features like automatic metering, real-time analysis of charging sessions, and high-end network connectivity.
Today, you can spot most EV charging stations at municipality parking locations, big housing complexes, malls, or supermarkets.
To expand the EV charging infrastructure needs, governments are encouraging retail outlets and small business shops to install charging stations. It subsequently incentivizes EV charging infrastructure companies to start an EV station franchise. They provided opportunities to entrepreneurs, including retail shops, fast food establishments, takeaways, offices, and convenience stores to install a station and start earning extra cash daily.
What is meant by an EV Charging Station Franchise?
An EV charging station franchise is a business opportunity for commercial property owners or entrepreneurs to open an EV charging station.
While installing an EV charging station yourself can be a complex journey, a franchise offers you the necessary support and turnkey solution to install a station.
Needless to say, if you become a franchisee of an EV charging service company, you can have a station installed seamlessly without having to do research, development, or anything at all.
Various Types of EV Charging Stations
Before you learn how to invest in an EV charging station franchise opportunity, know the types of charging stations required today. Your EV charging station business cost will directly depend on the type of charger you are installing.
1. Level 1 Charger
This is the type of charger for standard wall outlets, i.e., the ones used for home charging. Level 1 is the slowest type of EV charger. It is appropriate for overnight charging in residences or for cars engaged in low-mileage driving.
1 hour of charging on this type will drive an EV up to 5 miles of range. Installing a station with only Level 1 charger (s) will let you offer a brilliant charging facility to plug-in hybrid vehicles that use smaller batteries.
2. Level 2 Charger
This type of charger uses 240 volts of power and is ideal for fast charging. They need an AC (Alternating-Current) plug and are suitable for both public charging and home charging. Usually, residential complexes, multifamily buildings, and office buildings have charging stations with Level 2 chargers.
Retail outlets and commercial real-estates looking for electric car franchise opportunities can get this type of charger. Providing a fast and quick charging facility ensures you get considerable returns on your investment. With two or three chargers, your station can provide charging to a considerable number of cars per day and make money!
A Level 2 charger can get a car charged fully overnight, approximately in 8-10 years. On average, one hour of charge offers 25 miles of range.
A majority of EV charging stations at public places such as restaurants, rest areas, convenience stores, and shopping centers have Level 2 chargers.
3. DC Fast Charger
This is by far the fastest EV charger type that offers 250 miles of range after one hour of charging! They are also called superchargers for this reason. These superfast chargers charge a vehicle 80% in just 30 minutes. That's huge.
This type of charger is especially used by specific outlets or organizations that want to offer premium charging services to customers.
However, there's one major drawback of this charger type. It is not compatible with all types of EVs. That's why we never really recommend opening an EV charging station franchise with this type of charger. You might run into losses by not being able to support many cars.
5 Facts Making EV Charging Station Franchise A Great Investment Opportunity
Electric cars are addressing many issues, including reducing air pollution and supporting sustainable transportation. The EVs produce zero emissions of harmful greenhouse gases and that makes them a preferred choice of conscious consumers in the USA and other parts of the world.
By helping the planet conserve its valuable fuel energy, an EV charging station contributes to environmental sustainability. But, from the business point of view, EV charging station has more to offer!
Here, we will tell you how.
Investing in an EV charging station franchise cost is an excellent business opportunity for the given reasons.
1. Lower investment
This is the biggest advantage you get by investing in an EV charging franchise. Starting an EV charging station truly needs a minimal amount of upfront costs or startup capital.
This is because many small to large EV charging service companies are coming up with the franchise model. Under that, the interested business owners need a low cost to become a franchisee of one such company. Once they buy a franchise, the company provides solutions for the installation and management of the station.
2. Higher profits
Retail owners or businesses hosting an electric car charging station as a franchise can start earning huge profits through several channels. A primary source of profit margin is the fees you ask from the EV drivers for using the chargers at your station. You can bill them on an hourly basis, energy consumption, or based on both.
The other way it is going to profit you is by increased sales of your products/services. When your outlet has an EV charging station, more people will tend to visit, including those who aren't your previous customers. Your business gets higher footfall, and due to that you can sell more and earn more profits. Also, if your e-charging station has sufficient space, you can host advertisement banners or signage posts for local brands and get subsequent fees from them.
3. Easy cost recovery
Business owners can easily recover the EV charging station franchise cost needed to charge fees from EV drivers for powering their cars at their stations. However, for that, they need to wisely structure the fees. They can either charge based on per kilowatt-hour of electricity, the time needed for charging, or per charging session.
Whatever pricing model you choose to operate your electric car charging franchise, it's easy to recover the installation costs and any unexpected costs. This higher demand for EV charging services and the lesser number of stations is the main reason behind enhanced profitability and early cost recovery from an EV charging franchise business.
4. Promote environmental stewardship
Electric cars are contributing to the sustainability of the planet by reducing carbon emissions substantially. So, by owning and operating an EV charging station franchise, you are also indirectly contributing to environmental protection and sustainability.
When you install an EV charging plant at your retail or business outlet, it shows that your brand commits to creating a greener planet. Eventually, this attracts environmental enthusiasts and the conscious population of the state to your business outlet.
5. Competitive edge
An EV charging station franchise investment gives a competitive edge to businesses or retail outlets. Electric cars are the wisest choice for private transportation and are quite a trend now. With the demand for EVs growing so much, having a supercharger station at your business place will catch everyone's attention.
From getting higher traffic to earning extra income, your EV franchise gives you competitive advantages in many ways!
Business Models For Operating Commercial Electric Vehicle Charging Stations
If you are a business owner interested in an electric car charging station franchise, you have to first understand how it works. There are different business models available for an EV charging station. But, each of them has a different cost and meets a specific business objective.
You need to decide which model works in your favor, as per your budget and business objective.
1. Loss leader model
This is the primary or basic business model for EV charging stations, which aims at growing the market share of a business owner. Under this model, you have to provide the charging services free of cost to drivers. However, that means, you can attract a huge number of customers daily to your station or business place. You also retain your customers because who doesn't want to charge for free?
Increased daily footfall, more dwell time of customers, and a greater number of loyal customers - are the three assured benefits you get by operating this model. Due to these, your revenue increases manifold and offsets the costs of installing and operating the station.
2. Cost recovery model
In this model, you need to ask for a basic fee from the drivers for using the chargers of your station. Remember, you need to set the fee after estimation and approximation of the number of cars arriving at your station every day. It is necessary to recover the total operational costs of the station.
The additional profits raised under this model will be useful for recovering the installation costs and hardware equipment costs.
Any EV driver is willing to pay a price for charging their vehicle at a convenient stop while shopping or having some food. However, most of them tend to compare the price with their home charging costs. Keeping that in mind, you need to set a price within the expectations of drivers.
3. Profit-making model
As the model name says, this is primarily for businesses that want to earn huge profits from their EV charging station. Under this model, they can levy higher fees on the drivers for charging their cars.
Typically, the fees cover all the costs of the EV charging station installation, equipment, and operational costs. As a result, the EV station owners get a consistently profitable revenue stream!
This model is suitable for business owners whose customers have really limited options to charge their vehicles. Also, you need to install advanced rapid chargers to justify the higher fees for your services to customers.
4. Fully-funded model
Under this model, the charging infrastructure providers or companies play a major role. They offer business owners a proper parking space to install a charging station for free. Now, the charging infrastructure company does all procedures for the installation of the station and sets fees for a revenue stream. In return, it pays you a lease fee monthly.
Besides, having the lease fee, you get other additional income from the charging stations due to an increase in customers or more spending by customers during their dwell time. Also, you can choose to display a few advertisements for brands at your public station and earn hefty fees from them.
You can now understand that we at US Supercharge work to help businesses earn with this model.
What Makes Electric Car Charging Stations A Profitable Business Opportunity?
The number of electric car charging stations is growing across the country even if it is at a slower pace. But, it might have left you wondering "Are electric car charging stations a good business opportunity?"
To answer this, we will point out a few reasons.
1. Growing demand:
The adoption of electric vehicles (EVs) in America is high, and the market is growing consistently. As the usage of EVs is increasing, it is obvious that there will be a surge in the demand for charging stations. That makes the franchise a great potential business opportunity!
2. Environmental awareness:
EV charging stations align with sustainability goals, which is the need of the hour. EVs attract environmentally conscious customers, and they will also need stations to charge.
3. Potential for repeat business
A customer who finds your station a convenient place to charge will certainly come again for the next charging session, then once again, and so on. EV drivers need to charge frequently and that leads to regular customer traffic and a consistent income flow.
4. Competitive advantage:
The demand for EV charging stations is increasing day by day but there are not enough stations today. So, installing an EV charging station at this stage will establish a strong market presence and competitive advantage for your business.
5. Long-term viability
As the automotive industry is rapidly shifting towards electrification, EV charging stations are becoming more relevant in the country. That makes the profitability potential of an EV charging station in the future very high.
These reveal that franchises of electric car charging stations are a profitable business opportunity!
How To Earn Revenue from an EV Charging Station Franchise?
If you want to generate revenue from an EV charging station franchise, then wait until you get a reliable charging company.
The company must offer franchises, which include seamless installation services of the station at your commercial place. To minimize your EV charging station franchise cost in the USA, you need to find a company that offers every support. It should procure hardware and other charging equipment, provide trained electricians for the job, get permits, design the station, prepare the site, install the station, and deploy software for maintenance.
Once you partner with such a company for an EV charger franchise, there's nothing left for you to worry about. Their competent team will take care of everything, from installation to operation. When the station starts operating in full form, you start earning revenue.
No matter what your electric charging station franchise cost is, it will generate revenue through the following streams.
Car charging fees from drivers
Rent/lease fee from the EV charging company
More customers coming to your business
Customers spend their extra time buying more while their vehicles are getting charged
Additional fees for hosting promotional displays of brands or local companies
Cost Breakdown For a Commercial EV Charging Station
When you are ready to start an EV charging station business, the first thing you need to evaluate is the startup costs! Understanding every type of cost is necessary to choose a profitable business model for operating. Here, we provide a breakdown of the costs for you.
1. Infrastructure costs
To install an EV charging station, you need to ensure it has a proper electricity supply i.e., an established connection with an electricity provider. If not, you have to lay electrical conduits on the site or upgrade the existing conduits. This is required to acquire electricity from the supplier.
Investment in infrastructure is the primary cost for EV charging station installation. The expenses for electrical upgrades also include costs for boring, trenching, leveling, and cementing the site for power supply lines. Apart from upgrade expenditures, you also have to incur other expenses. They comprise the cost of the electrician's labor, electrical panels, additional transformers, and meters for monitoring consumption.
2. Charging equipment costs
Infrastructure costs involve the costs required for site preparation and construction for equipping a supercharger station. However, you need to spend separately on purchasing the charging equipment and specific hardware to support the chargers.
You can choose to install any one of the 3 types of chargers- Level 1, Level 2, and Level 3. Charging capacity and speed increases with the level. That's why we generally do not recommend installing Level 1 chargers in a commercial public station where cars will be flowing in continuously. They are ideal for overnight charging at homes or single apartments.
You need to buy Level 2 or Level 3 chargers for your EV charging station franchise according to the load you expect to handle every day. Level 3 chargers are the highest specification chargers and hence are expensive. They can charge a car fully within an hour! A Level 3 charger costs approximately $40,000. On the other hand, Level 1 chargers are priced between $300 and $1,000, and Level 2 chargers between $700 and $2000.
3. Indirect costs
Soft costs include the miscellaneous costs involved in securing and decorating the EV charging station to make it look professional. For instance, you will need to install protective bollards that protect the charging equipment. Those cost around $400. You will also need to place parking blocks to ensure 2-3 cars can park appropriately without ramming each other to get charged.
Lastly, you may feel the need to appoint a security guard or an operational staff to take care of the EV charging station during business hours. The person's salary is also a cost to you.
4. Software costs
When you franchise an EV charging station, you have to build a mobile app to work with the franchisor i.e., the EV charging company. It is firstly necessary to receive the financial incentives, which your EV charging station will be eligible for after meeting certain sales expectations/benchmarks.
Secondly, the app will help you and the company to stay in a common charging network and share insights. The company will use the software to monitor charging sessions at your station. It will help to analyze the charging demand and identify any lags or need for improvements.
Miscellaneous Costs For Operating EV Charging Stations
The costs of station installation are not the end! After your EV charging station starts operating in full swing, there are a few more costs to consider.
1. Cost of integrating data management
By analyzing the energy consumption and using the power wisely, you can save money in the long run. You can identify the peak time at your station when it needs the maximum power. Subsequently, you devise strategies to reduce the peak load and save electricity bills.
However, doing all that requires you to have resources for power management and again involves costs.
An EV charging company offers EV charger franchise opportunities to businesses while trying to optimize electricity consumption at various stations. For that, it asks the franchisees to deploy a software application with a robust interface for efficient data management. We also do the same!
Through the interface, we track charging sessions, building management, security cameras, lighting, and so on. We eventually share those insights or send real-time alerts to you, which will help you to reduce electricity usage at your station.
2. Insurance costs
Insuring is a critical part of owning EV charging stations in the USA. In every state, it is mandatory to have liability and property insurance for a commercial establishment.
The former will protect your EV charging business from any costs of claims that any customer can make for a loss or damage at your station. Property insurance will protect your charging station from any massive damage due to natural calamities, fire outbreaks, or accidents.
While liability insurance can typically cost between $250 - $500 per annum, property insurance will cost you somewhere between $500 - $1000 per annum.
Steps To Start An EV Charging Station Franchise Successfully
By now, you have understood that starting an EV charging station franchise is easy if you have found the right company.
If you are running a successful business outlet somewhere in a convenient city location, investing in an EV charging franchise is a great opportunity.
By investing in the EV charging station franchise cost, you are generating steady revenue streams for the future. Moreover, the EV charging market is growing at a rapid pace, and that brings affluent opportunities for the franchisees in the long run.
If all the benefits of owning EV charging stations attract you, here are the steps to get started!
1. Choose a location
If you are starting an EV charging franchise as a new business, this is the first step. But, skip this if you are already a business place or an outlet somewhere.
While picking a location for your charging station, keep a simple thing in mind. It should be a convenient location transportation-wise and sees higher traffic of vehicles every day. Locations near the highways, shopping centers, housing complexes, communities, etc., are ideal for stations. Also, make sure that the location is visible from the adjacent road and that it's easy for cars to get in and go out for charging.
2. Find a Trusted EV Charging Company
To start an EV charging station franchise smoothly and excellently, it is a must to have a reputed and trusted company. You need to find a company that offers an affordable franchise opportunity and also aligns with your business objective and goals.
You need to do some research to handpick the best company. Evaluate the company's reputation and years of experience in the EV charging sector to ensure it is trustworthy. Shortlist the companies based on that and make queries to each. Ask about the level of franchisor support they provide and the fees for franchising, including royalty fees. Once you know the potential cost of the EV charging station franchise each company offers, you can make a wise decision and select a company to go with.
3. Installation and Set-up of Charging Station
In your chosen location, it is time to start preparing for the charging station. Fortunately, the EV charging company will take care of the entire installation process. It will send electricians to work on the electrical wiring and other infrastructure modifications on the site. Its construction engineers will design the station after assessing the space available for the station.
Also, the company has its own procurement solutions and supply network through which it will acquire the specific chargers and support equipment for the station. It also has dedicated members to obtain permits and deal with the necessary paperwork for ensuring the legitimacy of the station installation.
4. Put efforts into marketing
Your EV charging station franchise will not turn profitable until you market it well. Thus, start with marketing as soon as the installation is complete.
The better you spread the word about the charging station at your business place, the more customers you can attract to use your service.
Here are a few tips to market your EV charging station effectively and get customers.
Advertise or publish the news on your website.
Make posts in sequence on your social media page to announce the launch of your EV charging station.
Print catchy flyers and distribute them among local members, residents, and public places.
Offer lucrative promotional offers and discounts on your products/services to lure customers if you have an existing business at the station.
Put the charging fees minimal or free for the first few customers or a few initial days after installation.
5. Decide pricing model for revenue
The last but pretty vital step is to decide the pricing model for generating revenue from your EV charging station. You can levy the drivers based on the duration of charging, power consumption, or both.
Whatever model you choose, you must be able to recover your EV charging station franchise cost to get sufficient profits. For that, you need to analyze and wisely predict the flow of cars to your business spot and their probability of using your charger.
The other key things to consider for setting the pricing structure of your EV charging station are:
Expenses for installation and operation.
Cost of getting power and electricity supply infrastructure.
Royalty fees to the franchisor (EV charging service company).
Future possibilities of expanding your EV charging business.
Major Factors Influencing The EV Charging Station Cost
As more people in the USA are using electric cars, the demand for EV charging stations is growing incessantly. Also, the federal policies for a zero-emission economy by 2025 are encouraging private and public entities to build charging stations to power the increasing number of EVs.
This leaves all types of business entities in the private sector to own an EV charging franchise and be a part of the growing EV infrastructure. However, many business owners are still reluctant considering the costs involved. The cost of owning a franchise is not necessarily higher. If you understand the factors that affect the cost, you can invest intelligently.
1. Location
The location where you want to install the charging station is a major determinant of the cost. If it is located in the middle of the city or near a highway entry/exit, the costs will be higher. The cost of any area of land/parking space in such an area is expensive so your cost of franchise will be higher too.
That is why we recommend choosing a high-traffic area for your charging station such as in proximity to a supermarket, shopping mall, multi-office building, or a residential complex. This keeps costs comparatively lower while ensuring higher footfall at your station.
2. Infrastructure and installation expenses
The EV charging station franchise cost directly depends on the infrastructure and installation expenditure. The franchisor or EV charging company will set the cost after evaluating the expenses needed for the installation of a charging station at your desired place.
The franchisor will seek a cost that will cover the cost of design planning, site preparation and construction, prewiring, adjusting existing electrical conduits, and leveling the land.
3. Competition in the market
The present scenario of the market, especially the competition level indirectly affects the cost of an EV charging station franchise. More and more businesses are installing a charging station or supplementing their existing business premises with a station. This is making the market competitive.
To install your station, you must research the potential of traffic and demand at your station and also, the likelihood of other stations coming up nearby. If the location is in a high-demand area but it also has many charging stations in proximity, the cost of the franchise will be lower.
4. Pricing structure/revenue model
The pricing structure or revenue model of your charging station is another factor determining the cost. Depending on the pricing model you choose, the franchisor will set the cost. For instance, if you choose a profit-oriented pricing structure to ensure a profit from every EV charging session, the cost will be higher. However, if you go with a sales-driven model, the cost of a franchise is comparatively lower.
How Much Does EV Charging Station Franchise Cost?
Well, you have learned about the various factors affecting the cost of starting an EV charging station franchise. But, that might get you guessing what's the exact EV charging station franchise cost in the USA.
While we can't tell you the exact cost, here we prepared a rough estimation for you. It is based on factors, like the type of chargers used, the number of chargers to install, and electrical construction/upgrades required.
Among the three types of chargers, Level 1 is usually not suitable for a commercial charging facility. Being a lower-power charger, it is best for residential use and is also the most inexpensive type.
Level 2 chargers are available in a mid-price range, between $100 and $5000 whereas Level 3 chargers or DC Fast chargers are priced between $30,000 and $80,000. Needless to say, Level 3 chargers being the most expensive ones are suitable for offering premium charging services to customers. Usually, luxury hotels, posh shopping centers, multispecialty service centers, etc., install them.
Ideally, we recommend commercial facilities to install Level 2 chargers, which are affordable and allow fast charging. While they can charge a car fully in 5- 8 hours, they can charge up to 30 miles of range per hour. That is sufficient for any vehicles in transit for work, shopping, or running errands in the city.
Common Risks in Starting an Electric Car Charging Station Franchise
No investment is without risks! So, when you are investing in an EV charging station franchise, you also should be prepared for the potential risks. If not risks, challenges will come across the journey, which you need to handle before it hampers your plan.
Some of the common risks involved in starting an EV charging station business that you should be aware of are:
1. Higher upfront costs
Even though EV charging stations are profitable in the long run, there are high upfront costs. This makes many small business owners reluctant to invest. Initially, they are unsure of the profits they will earn in the future, and the total costs seem too high. The cost of buying a Level 2 charger, renting/buying a space, electrical upgrades, and engineers' labor- all these makes the cost of installing a station higher.
A Pro Tip: Analyze your upfront costs and decide on an appropriate price or revenue model that will ensure your commercial EV charging station earns profits!
2. Fluctuating demand
Given the uneven distribution of EV charging stations across all states in the USA, it is evident that EVs are not equally high in demand everywhere. This means you have to be careful about choosing the location for your EV charging station franchise.
A Pro Tip: It has to be somewhere where the electric vehicle usage is high. If you have no choice regarding the state, then research a bit before investing to minimize your risks. Choose a location at city transits, near shopping malls, hospitality centers, and other public amenities.
3. Higher competition
After the federal declared its goal to expand the EV charging network and encouraged the private sector to take part, the competition intensified. More and more businesses are stepping in to get a share of the commercial EV charging station profit! With competition growing fast, it is becoming intimidating for any business owner to invest in an EV charging station franchise cost.
Also, big corporations like Shell or BP give more competition to the small charging stations.
While competition will prevail, the question is "Are charging stations profitable?"
A Pro Tip: Your EV charging station can turn profitable despite numerous competitions if you offer additional services or benefits. For instance, you can offer snacks, free Wi-Fi, or a gaming zone! It will eventually boost your business by increasing the dwell time of your customers. If it is an existing business shop or outlet of yours, then offer additional discounts on products to customers who charge their EVs.
4. Complex regulations
Installing an EV charging station at any place requires you to comply with the regulations of local electrical commissions and regional authorities. You also require necessary permits for the installation as it needs a consistent power supply.
Now, these regulations and permits vary with location. While it is simple at some locations, businesses have to go through several complexities in many municipalities.
A Pro Tip: Partner with an experienced EV charging company that offers station installation and assistance in the procedures of getting permits and meeting compliance.
How To Operate an EV Charging Station Franchise Successfully?
We made you understand how to start an EV charging station business through our detailed step-by-step. Once you have successfully installed the station, it is then time to operate it.
To operate your electric car charging station successfully, these steps are a must-follow for you.
1. Offer a great charging experience
For every customer, ensure a good EV charging experience, and you will see how traffic to your station increases. Customer satisfaction is the key to success in every type of business. In the case of an EV charging business, keep your customers happy and satisfied with a seamless charging process.
Parking and plugging in should be hassle-free for them. Also, make sure they are comfortable while their cars get charged. Provide some refreshments or recreation activities for that. Additionally, you can offer mobile payment options and reward your regular customers with discounts on the next charging sessions.
2. Provide 24x7 customer service
This is important when you're owning an EV charging station franchise! You need to be accessible and available to your customers 24x7 to help them with any issue at the station or the charging process.
For instance, if a customer gets stuck with the payment or faces trouble while connecting to your charger, there should be someone to immediately resolve the situation.
3. Seek insights from charging data
Your goal from the EV charging station franchise investment is to maximize profits in the long run. And, for that, you need to find good strategies. Seek to build your strategies after analyzing the insights of charging activities at your station. It helps you understand the performance and sales potential at different times.
Based on your data insights, find suitable hours to offer discounts, manage during peak hours, strategize to retain customers, and optimize energy consumption.
4. Do marketing
Until you go public and promote your new EV charging station franchise, you are not getting many customers. How will people know that there's an EV station nearby?
So, publicize and promote your station across social media and popular advertisement mediums like newspapers, banners, and magazines.
5. Keep the billing process
Often people are in a hurry and need to charge their EVs while going to a place. Also, very few carry cash with them. To offer the convenience of payment, make the billing process easier. Provide online/mobile payment, one-click wallet payment (through your app), debit/credit card payment, or scanner payment.
The more convenient payment options are the better the experience of your customers. It also helps you get more regular customers and hence more profits!
Electric Charging Stations Trends To Watch Out Shortly
The future of EV charging station market is as bright as the market of EVs. As the sale of EVs is growing fast, demand for charging stations is evolving everywhere in the USA. To meet the demand, EV charging companies are doing research and development to enhance the chargers and enable fast charging.
If you are investing in an EV charging station franchise cost, these are certain potential trends to look for in the next few years.
1. Enhanced charging speed
As the number of EVs on the road is incessantly growing, you can expect to see a pack of multiple cars at a station at a time. To reduce the waiting time for cars and generate more profits, station owners will opt for faster chargers such as Level 3 or DC fast chargers. These are also called superchargers and can charge 80% of a car in just 15-30 minutes.
These superchargers need 400-900 Volt electricity service. EV companies and charger makers are consistently working to bring charger models that charge faster efficiently.
2. Growing demand
President Biden declared the goal of the government to bring as many EV charging stations as possible to make America a zero-emission economy. He expects to have more than 500,000 stations in the USA.
Given the scenario, demand for EV charging stations will grow further in the future.
3. Enhanced software management
Software management is going to be an indispensable part of EV charging station operations as the charging infrastructure will expand in the future. As EV companies or charging companies open more franchises at different locations, they need a software application to manage all their stations effectively from one place.
Also, software integration is necessary to provide necessary insights and real-time data to station owners on charging activities. It helps them analyze the station's performance, identify issues, and upgrade services.
Flexible Funding Options Available For EV Charging Station Franchise
Do you think that an EV charging station franchise costs too much? Well, there's good news for you. You can choose from a few options specifically available for EV charging station franchise costs.
1. EV charging company funding:
Under this type of funding, you approach an EV charging specialty company for installation, equipment, and related costs. However, you have the right to decide the location of the station and the business model for operating it. You can take full responsibility for the operations and maintenance of the station. In that case, you need to use their software. But, if you do not wish to take full responsibility, just pay a monthly fee to the company, and they will do that.
2. Hybrid funding model:
In this funding option, you only get the upfront capital costs but use your funds for site preparation and related costs. The EV charging company offering the fund will maintain your operations for a certain period as mentioned in the contract. You have to share a part of the revenue with the company.
3. Full funding:
Here, the EV charging company will fully fund your EV charging station franchise cost after they approve your station's location. From site preparation to maintenance of operations, everything becomes their responsibility.
Invest Efficiently in EV Charging Station Franchise Cost with US Supercharge
The need for EV charging stations with fast chargers is felt everywhere as people are switching to this eco-friendly mode of transportation.
Electric vehicles are the future of transportation in America and most parts of the world. While a consistent boom in the electric car market is certain, are there enough options for charging the EVs? No, not yet! Being wary of the situation, governments and EV charging companies are providing opportunities to business owners and commercial shops to start an EV franchise station.
And, YES, an EV charging station franchise is considered as a brilliant business opportunity today! Due to the rising use of electric cars in the USA, charging stations are in demand across every city. Don't you think it is great to utilize this opportunity now? It is wise to own an EV charging station franchise at a reasonable cost before the market turns heavily competitive. Besides, there are convenient approaches and EV charging companies to lend support for your EV charging station franchise cost.
At US Supercharge, you get full-fledged support for the installation of an EV charging station at your commercial place. We are a renowned sustainable electric company, offering EV charging station hosting opportunities in the USA.
Having expertise in the field, we provide turnkey installation services at commercial places and pay a lease fee to business owners. If you are interested in knowing how to start your own EV charging business, contact us, and we will guide you through the process.